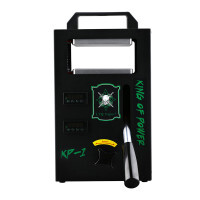 Best Hydraulic Rosin Press Machine 2019 LTQ Vapor KP-1 Rosin Heat Press
$287.00
Product is as described. Works well. Helpful staff. Thank you b2cvape !
I use this press to produce my own concentrates in a state where concentrates are non existent, I'm really grateful for this machine as I don't have to leave the comfort of my home to medicate and take care of myself. Overall it's a very intuitive machine to use and durable device. If you don't have access to concentrates or they're extremely expensive in your area I would definitely recommend making your own with this press.
Best priced and highest quality press around, hands down! This thing rocks! Highly recommend for personal pressers
I have been using this press daily for months now and I have to say that I am very impressed with it so far. It is compact but still gets the job done. It is about the size of a coffee maker and is very easy to use. I get yields of in between 15%-25% depending on the quality of material that I start with and I am happy with that. As far as the build quality goes this thing seems very sturdy and well built.
Hmmm this review is word for word the same as a review on high 5 enail website for a high 5 rosin press
Only tried it once so far, but great device and great customer service!
Good seller. Shipped fast.
Awesome seller, fast shipping and good quality. Thank you!!!
fast shipping and great product..
Fast delivery, Great seller.
Super products, super seller

Your cart is currently empty.